Meet Kelly Armstrong
Kelly is a lifelong, devoted North Dakotan who grew up in Dickinson, spending his childhood on baseball diamonds and wrestling mats. However, his true passion was and continues to be the outdoors. In the summers he could be found on Lake Sakakawea and during the fall he was bow hunting in the badlands.

After graduating from Dickinson High School in 1995, Kelly attended the University of North Dakota and obtained a bachelor's degree in 2001. He then attended UND law school, graduating in 2003. Kelly returned home to Dickinson during his college summers to coach the Dickinson Roughriders American Legion baseball team. While his teams found success on the field, Kelly is most proud of the successes his players achieved off the field. A passionate mentor, he still keeps in touch with many of his former players and enjoys watching them grow into successful adults.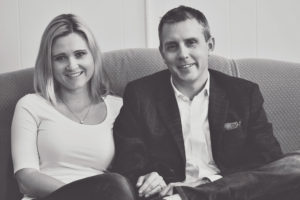 Kelly and his wife, Kjersti, met while she attended UND through a law school exchange program with her university in Norway. They fell in love and married in 2004. The first years of their marriage were spent in Grand Forks while Kjersti completed her law degree and Kelly began his law career working for his lifelong friend, Alex Reichert. The couple later moved back home to Dickinson to be closer to family, where Kelly opened the second office of the newly partnered law firm, Reichert Armstrong. While practicing law, Kelly became known as someone who worked tirelessly for his clients and gained the respect of his counterparts, the judiciary and law enforcement. Kelly and Kjersti had their first child, Anna, in 2007, shortly after their move home. Their second child, Eli, was born in 2010.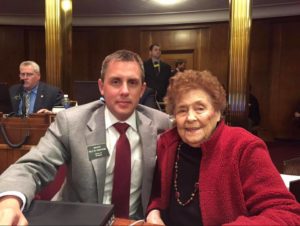 Family and community are both deeply important to Kelly, values instilled in him in great part to his late Grandma Myrt's influence. Her legacy of fighting for those who need help most continues through Kelly's steadfast dedication to his community and those who live there. A recipient of the North Dakota Bar Association's Community Service Award, Kelly served as a volunteer fireman for the Dickinson Fire Department from 2005 through 2012, continued his role coaching girls' softball and boys' baseball during the summers and is active in charitable works for many local organizations, including his local hospital, university, police association, volunteer fire department, best friends mentoring program, domestic violence rape crisis center, and the Teddy Roosevelt Bully Pulpit Board. He also served as President of the Dickinson Baseball club for ten years and was elected to the North Dakota American Legion Baseball Hall of Fame in 2017.
In 2011, Kelly joined his family's energy business, The Armstrong Corporation, serving as Vice President until 2018. This small family business has expanded over time to include not only oil and gas exploration, but also agricultural operations and investments in local businesses and striving entrepreneurs. The Armstrong family's commitment to their community was officially recognized with the Roughrider Award (not the big one, Kelly doesn't have a painting of himself in the Capitol) in 2013 for their initiative to employ and provide opportunities for veterans returning from deployment overseas.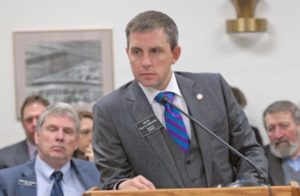 Interested in public service at an early age, Kelly successfully ran for the North Dakota State Senate in District 36 in 2012. He served as the Chairman of the Judiciary Committee, the Chairman of the Justice Reinvestment Committee and a member of the Energy and Natural Resources Committee. Kelly has sponsored and fought for legislation that has had an enormous impact on North Dakota. In his first session, Kelly spearheaded DUI reform legislation, increasing penalties on DUI offenders while also ensuring more tools are available for addiction treatment. His second session he was the prime sponsor of the surge bill, bringing $2 billion dollars of essential infrastructure funding to counties across the entire state.  Most recently, Kelly introduced a bill to solve the lakebed mineral crisis, a complicated and historical issue involving mineral ownership under Lake Sakakawea. Kelly's passion for personal property rights helped ensure private mineral ownership would remain with the ranchers, farmers, and families they belong, not taken by the state.
His involvement in the legislature allowed Kelly to see the need for leadership in the North Dakota Republican Party, and he successfully ran for Chairman of the NDGOP in 2015. In the year following, Kelly led the party through a historic election where President Trump won North Dakota by a 36 point margin, Governor Burgum won in a landslide victory and the North Dakota legislature increased their super majority by 17 legislative seats.
In January of 2019, Kelly was sworn in as North Dakota's lone member of the U.S. House of Representatives. He is a member of the House Energy and Commerce Committee, the House Oversight and Accountability Committee, and the Select Committee on the Weaponization of Government.